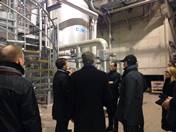 2016-12-02
First Change Management case and a story of Vilniaus vandenys
As BMI Alumni association continues to analyze the topic of Change Management, first of the case-study events took place at the premises of Vilniaus Vandenys (Vilnius Water Company) this Tuesday.
Almost 20 participants from various classes of BMI got an opportunity to visit the main Vilnius Wastewater treatment plant, operated by Vilniaus vandenys. And after the walkthrough and presentation of the main processes, CEO of the company Mr. Aidas Ignatavičius has explained participants how the company has implemented the structural changes in the company earlier this year and how it tackled the challenges.
Change of organizational culture, engaging employees and managers of all levels were highlighted as the main challenges while forming a company with a new level of management quality and rebuilding its reputation in eyes of customers.