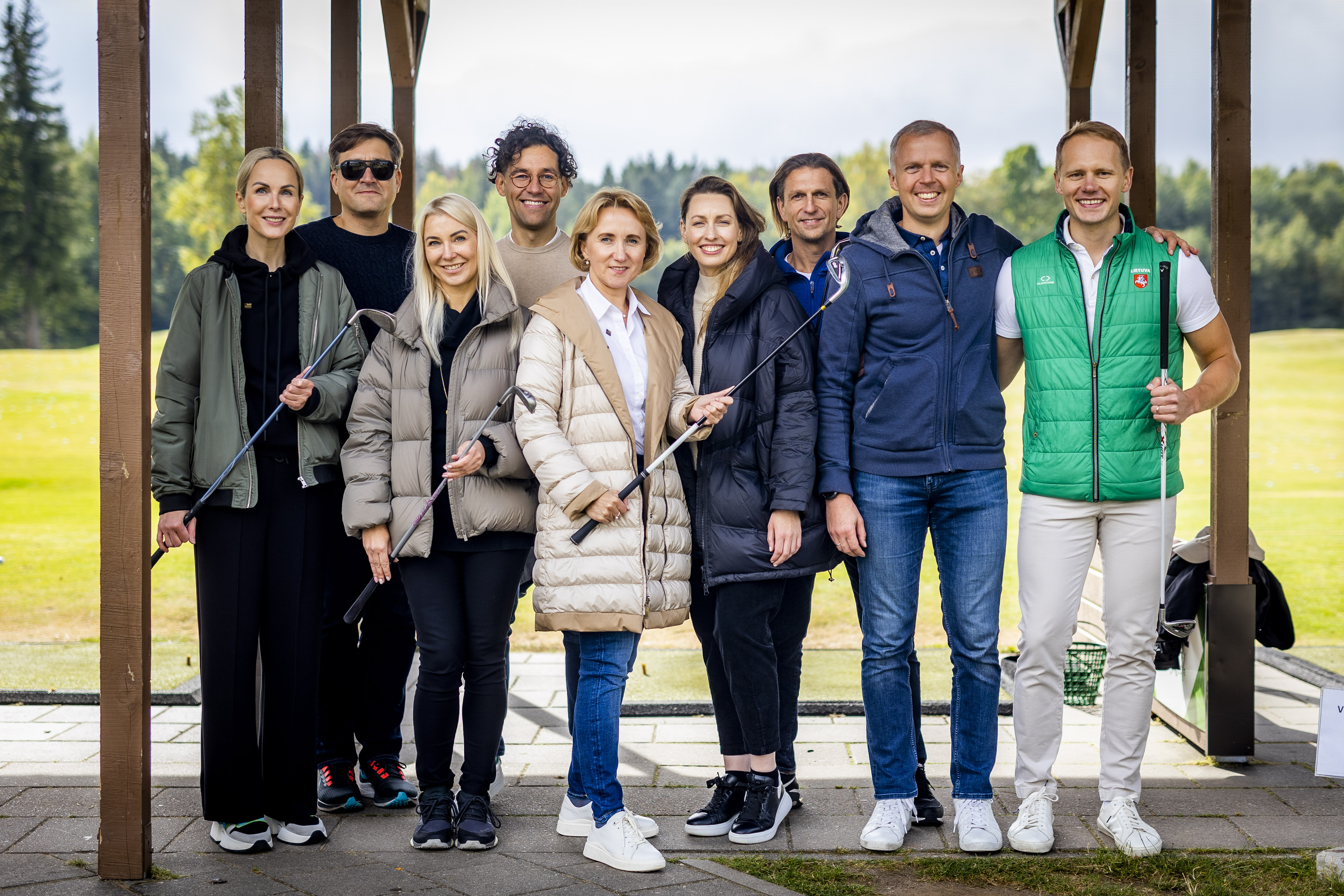 2022-09-21
First BMI Alumni Executive Club Golf Tournament was sunny and successful
Our network and first-time experiences empower us to stay sharp! On 18 September 2022, BMI Alumni Executive Club president Rytis Valūnas and council chairman Mantas Marčiulaitis welcomed BMI alumni and their family members at the first ever BMI Alumni Executive Club Golf Tournament.
The morning at the European Center Golf Club was foggy and cool, but that didn't prevent the participants from gathering early. The experienced golfers immediately rushed to warm up at the driving range with enthusiasm and smiles on their faces. Other participants –including many who came to try golf for the first time – started their morning with conversation and coffee.
To begin the event in a meaningful way, we planted a paradise apple tree marked with the BMI Alumni Executive Club's motto: "An elite business network which empowers you to stay sharp". 
The experienced players (12 in total), divided up into four teams and started their game on the course. Meanwhile, the newcomers (24) began training with a coach, starting from the basic rules of the game and later moving to the driving range, where everybody learned how to hold the club correctly and swing.
The practical lessons ended with a mini-golf tournament, during which the participants played 6 holes. Both adults and kids were full of excitement, and frequently the young participants surpassed their parents in accuracy. The appearance of the sun brought even more positive emotions and at the same time made the conditions of the game more interesting and complicated.
When the experienced players returned after a game of 9 holes, the event finished with an awards ceremony, the cutting of the cake, networking and socializing. We hope that the BMI Alumni Executive Club's golf tournament will become a tradition, and that next year we will all come back stronger and sharper. 
Congratulations to the winners of the mini-golf tournament:
1. Oleg Bukin
2. Mantas Šapalas (Class of XVII)
3. Vytis Bagdonavičius
And of the main BMI Alumni Executive Club Golf Tournament:
1. Edvinas Ruzgas (Class of XVIII)
2. Ignas Vosylius (Class of XVII)
3. Kęstutis Pusčius (Class of XIV) 
Special thanks to the European Center Golf Club for the warm welcome and to all the sponsors of the event: DPD Lithuania, Marsh, SME Finance, Bta, Europos Centro Golf Klubas, Baltic Amadeus, Textus Aptus, Volfas Engelman.