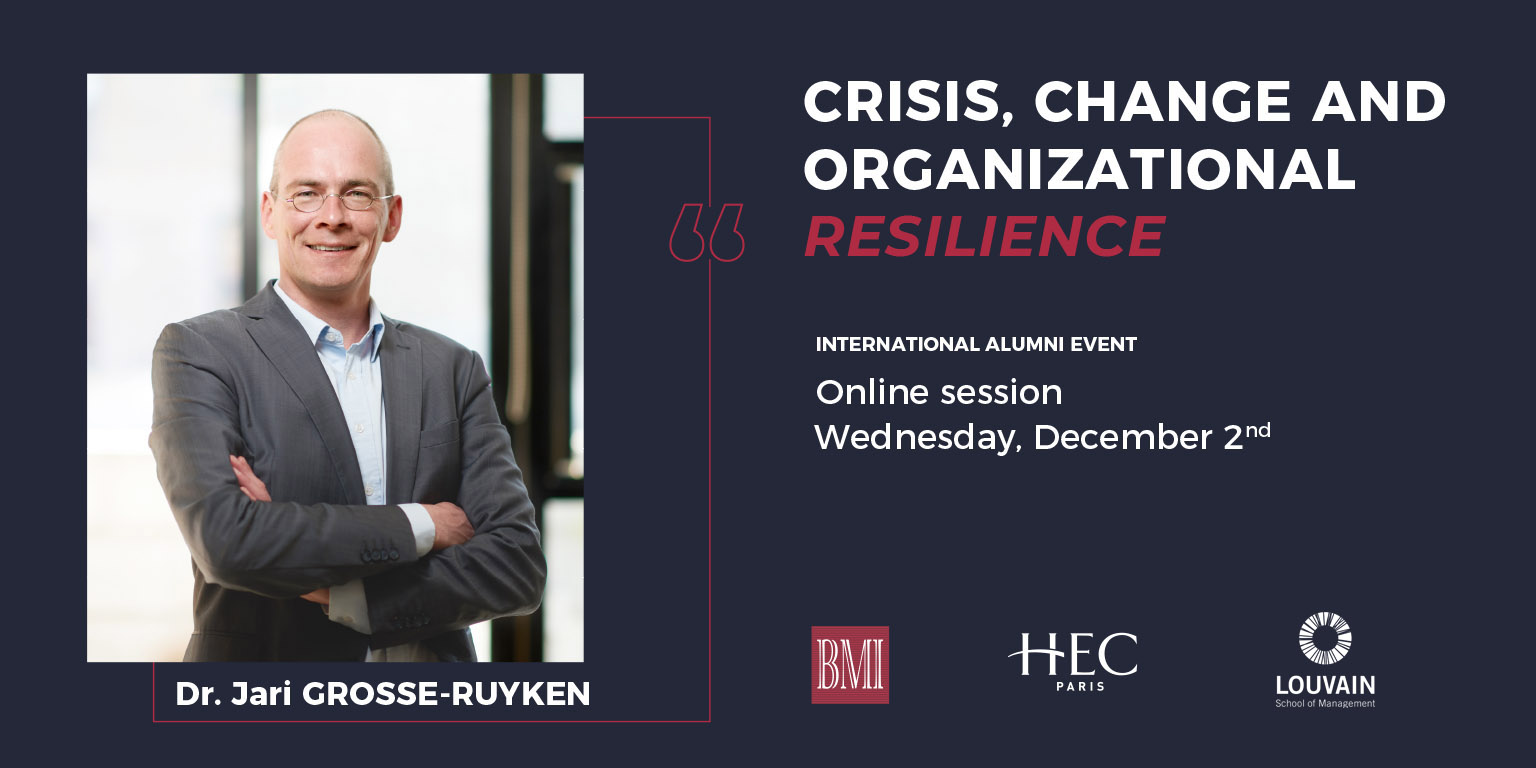 02 Dec
"Crisis like no other" or crisis that is just like the ones before?
The recent COVID-19 social and economic crisis may seem exceptional but is really just part of a pattern of recurring disruptions and crises and therefore, a valuable reminder to leaders & managers that our times are far from any form of constant normality.
BMI Institute with BMI Alumni Association together with its founding partner schools HEC Paris, France and Louvain School of Management, Belgium is happy to announce an international online session Crisis, Change and Organizational Resilience with BMI lecturer Dr. Jari Grosse-Ruyken, a Co-Founder and Managing Partner at Hivetime, a Shanghai-based consultancy firm specializing in leadership and team development.
The online lecture dedicated exclusively for alumni of HEC Paris, Louvain School of Management and BMI Institute, will take place on Wednesday, December 2nd, at 12:00 Brussels time, via ZOOM platform.
During the interactive live session Dr. Grosse-Ruyken will share recent company cases, lessons-learned and good practices to help you build stronger and more resilient teams and organizations. The time is now for leaders & managers to dedicate more time and focus to ensure the resilience of their teams and organizations to remain successful.
We kindly ask you to register here no later than Tuesday, December 1st.
The webinar takes 1.5h. The Zoom link, together with the confirmation of your registration, will be sent shortly after registration.
For more information on the event, please contact Dagnė Armonaitė: +370 650 25096, dagne@bmiinstitute.com
More about the speaker
With more than 20 years of experience researching, lecturing and consulting on strategic thinking in China, Dr. Grosse-Ruyken not only grasps the cultural nuances of thought, leadership and strategy, but is also capable of providing actionable advice and solutions for dealing with the diversity challenge in top management. Having held several cross-cultural leadership positions in academia, including that of Director of the Sino-German School for Postgraduate Studies (CDHK),Tongji University, his main area of expertise is the "people side of business":
Organizational and cultural change, mindset change, healthy & high-performing teams, as well as diversity and agile leadership.
J. Grosse-Ruyken used to serve as Deputy Chairman of the Board of the German Schools in Shanghai (DSS, 2012-2019) and is Visiting Professor at the Berlin School of Creative Leadership, Tongji University, as well as Antai College of Jiao Tong University. He mainly serves multinational clients and local privately owned companies from the automotive, chemical, pharmaceutical, financial and IT-based industries (e.g. AIIB, Continental, BASF, Boeringer Ingelheim, Covestro, Maserati, NIO, Siemens, Porsche, SMS Group and ZF). J. Grosse-Ruyken gives lectures in several renowned MBA & EMBA programmes such as St. Gallen Business School, ESADE, Mannheim Business School, Berlin School of Creative Leadership, Jiao Tong University, BMI institute and others.
Registration form to event
Registration ended