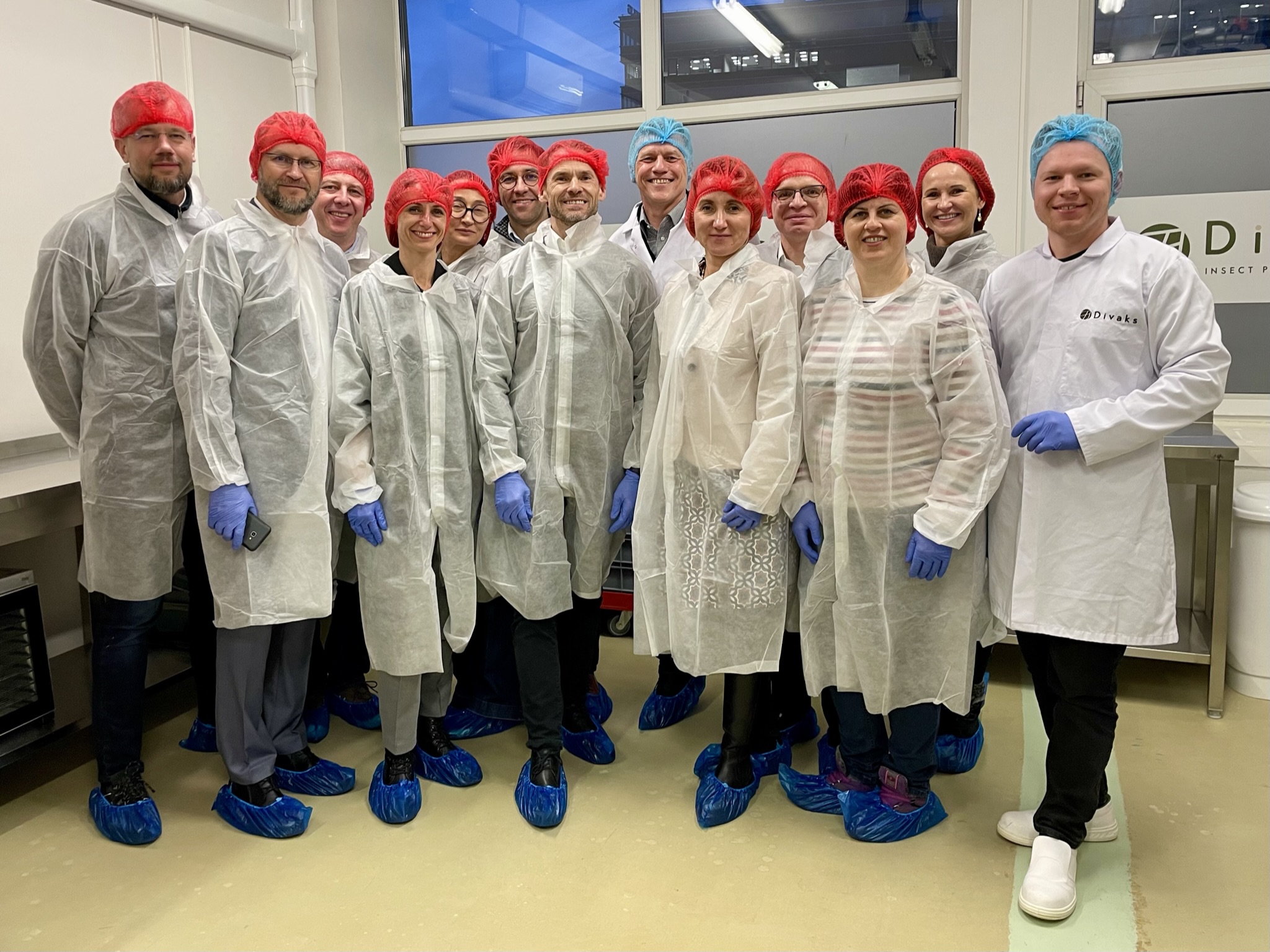 On March 9, we had a super interesting company visit to Divaks, a producer of high-quality insect-derived ingredients for the food industry. It was very inspiring, in fact. Not the insects, exactly, but the people driving this start-up forward.
Co-founder and CEO Kęstutis Lipnickas, an alumnus of BMI Class IV, showed us around the pilot facility where Divaks is running a fully integrated production cycle: hatching, growing and harvesting insects – yellow mealworms in particular – and processing them into premium food ingredients that excel in nutritional and functional qualities. 
Most of the BMI alumni visitors were brave enough to taste the whole dried insects and try a variety of foods with added insect powder, such as snack bars and dried fruit snacks. There were even insect-protein-enriched chicken meatballs, which tasted… like chicken.
Divaks is clearly ahead of the curve. It has already built-up extensive know-how and obtained the long list of veterinary and other certifications needed for farming insects and producing final food-grade products, just as the wave of demand is rising and the industry is about to explode.
Why such hype about food made from insects? First of all, it's much more sustainable than animal protein. Producing 100 g of protein from mealworms requires 90+ times less land than for beef and only about half as much as making the same amount of protein from peas. CO2 emissions and water consumption are 18.5 and 4.9 times less than for beef, respectively. A second argument is the nutritional value of insect-derived protein, which has a full set of valuable fatty acids. Finally, EU regulations have qualified it as novel food for human consumption and boosted the industry substantially.
Kęstutis believes that insect-derived foods will never fully replace animal meat or plant-based proteins, but clearly it will become a normal ingredient in both functional and daily food. "There is no other way to feed the planet", he says. "Edible insects are part of the solution in the transition toward a more resilient and sustainable food system."
Currently, Divaks is streamlining its production on a small scale here in Vilnius, growing a customer base in Europe and all around the world, and actively raising capital to build a big new 'mega factory' in the Marijampole FEZ. That facility is already designed and fully planned.
The keywords from this amazing visit? Thinking big, vision, strategic focus, energy, enthusiasm, science, great timing, team, leadership, and persistence. People and their ideas are definitely so much more inspiring than tiny insects!