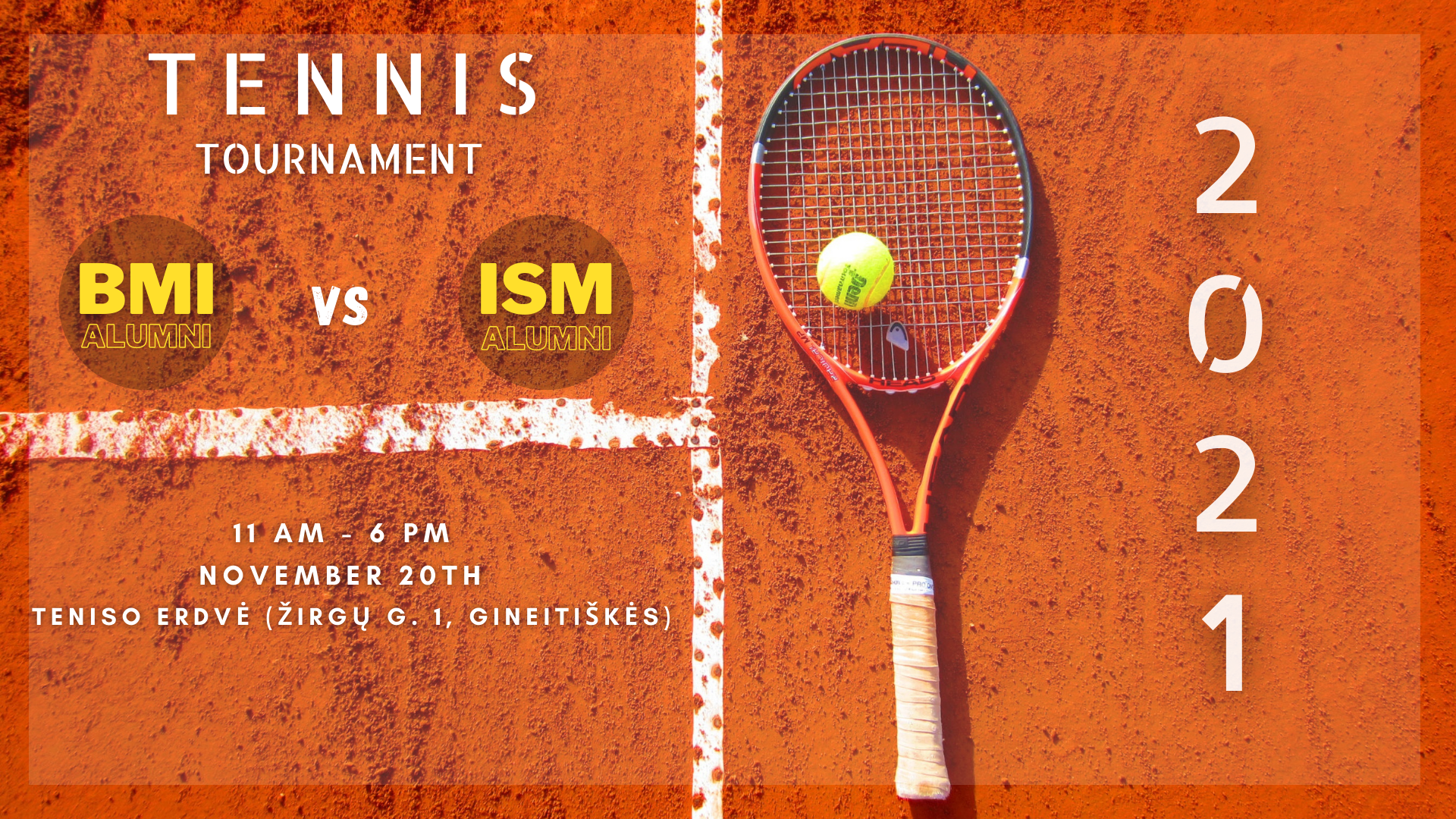 20 Nov
BMI alumni team vs ISM alumni team tennis tournament 2021
BMI alumni team vs ISM alumni team tennis tournament 2021
Dear all,
November 20, 2021 (Saturday) The BMI Alumni Association, together with the ISM Masters Club, is organizing a tennis tournament and inviting alumni from both high school executive programs.
We will rack up the rackets, exercise well, and in the evening we will wash away the sweat with refreshments and fun conversations!
For sure, prizes await the winners!!!
Tournament start: 2021-11-20,11:00
Tournament end: 2021-11-20, 18:00
Participants are welcome to arrive and start getting ready from 10:30.
Place: Teniso Erdvė. Žirgų g. 1, Gineitiškės, Vilniaus r.
Participation fee:
BMI alumni association and ISM Masters Club members - 30 €,
BMI alumni, ISM Executive School alumni - 60 €.
BMI alumni account: LT627044060000968206, payment purpose: BMI vs ISM
ISM alumni account: LT497300010074314075, payment purpose: BMI vs ISM
>>REGISTRATION FOR THE TOURNAMENT<<
Anyone can participate, preparation is not important - teammates and equal competitors will be taken care of by the organizers. The most important thing is to have a good time!
Captain of BMI Alumni Association Tomas Valiukevičius
Captain of ISM Masters Club Tomas Bagdanskis
Invited guests of the event: program teachers and professors (participation is free).
We are also waiting for spectators (registration is not necessary)!
More information about the event and evening plans will be published >HERE<
If you would like to be a sponsor of the event - write to us!
For other questions please contact:
BMI alumni – Gailė Sandaitė, info@bmialumni.lt
ISM MK - Vilma Sirvydienė, info@magistruklubas.lt
See you soon!
Teniso Erdvė
,
Žirgų g. 1, Gineitiškės, Vilniaus r.
Registration form to event
Registration ended