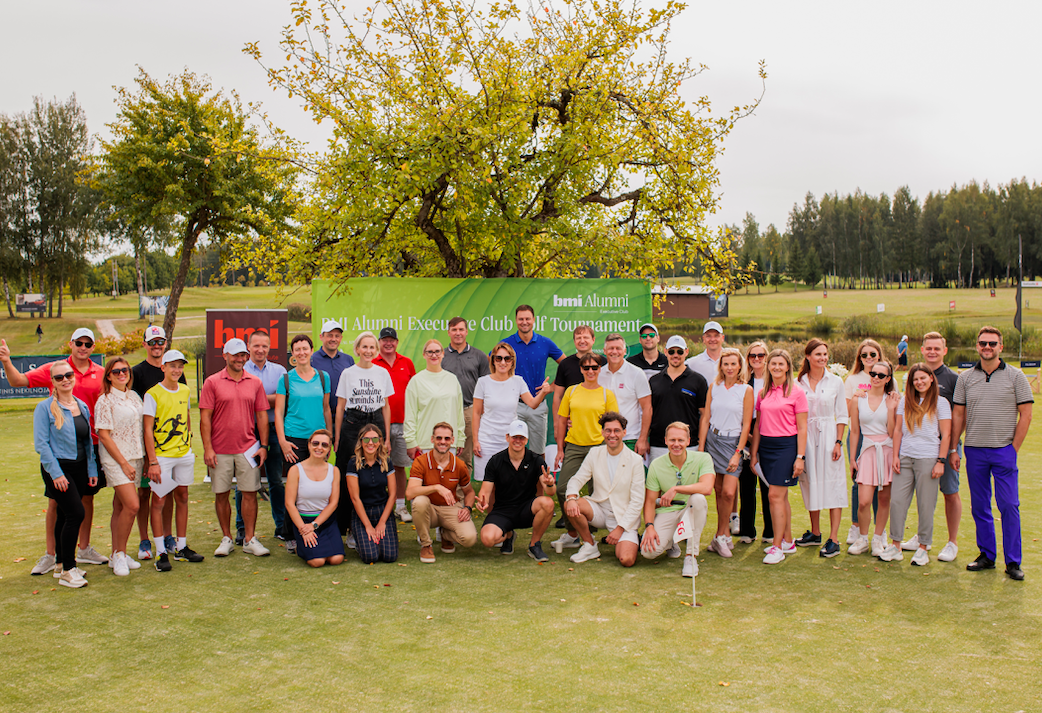 2023-09-11
BMI Alumni Golf Tournament: Strengthening Bonds and Embracing New Traditions
The BMI Alumni Golf Tournament at Europos Centro Golfo klubas, organized for the second time by the BMI Alumni Executive Club, is becoming a new tradition. This year, it drew nearly 50 participants who came together to enjoy a splendid day outdoors, acquire new skills, play, and strengthen our bonds.
The event appealed not only to experienced players engaged in a 9-hole competition but also to first-time participants and wannabe golfers, including children and families. While the golfers embarked on their game, the rest of us received an introductory course from two experienced coaches, practiced in the driving range, went out to the field to watch some real game in action, and later put our newfound abilities to the test in a putting contest.
In addition to the golfing activities, our guests had the opportunity to test-drive the latest Mercedes-Benz models, craft their unique perfumes with Provanso kvapai, indulge in a sparkling wine tasting organized by Vyno Klubas, or maybe event try pairing wine with Divaks' insect protein enriched healthy snacks.
One of the highlights of the day was the putting competition, where three participants tied in points during the 8-hole challenge. It took a couple of extra rounds to determine the winners:
Kęstutis Lipnickas (Class IV)
Antanas Jurevičius (Class XVI)
Tomas Pimpė (Class XIV)
The main 9-hole competition witnessed an even more exhilarating showdown, with the youngest golfer among us claiming victory. Notably, this year marked a historic moment as a female participant secured a spot in the top three:
Grantas Pikūnas (Son of Karolis Pikūnas, Class XX)
Arnoldas Nausėda (Class XVI)
Asta Bagdonavičienė (Class XXIV)
We extend our gratitude to our sponsors, whose contributions helped us making this event a reality: Mercedes-Benz, the main sponsor represented by UAB VEHO, Europos Centro Golfo Klubas as our host, and our partners Divaks, Gera Dovana, Paulig, Provanso kvapai, Sportpoint, and Vyno klubas.
As we said farewell to this year's event, we shared a promise to return next year with an even bigger number of players, increased female participation, and inspired by the accomplishments of our younger generation.
We look forward to seeing you on the green in September 2024!
See the photo gallery from the event here: PHOTO GALLERY