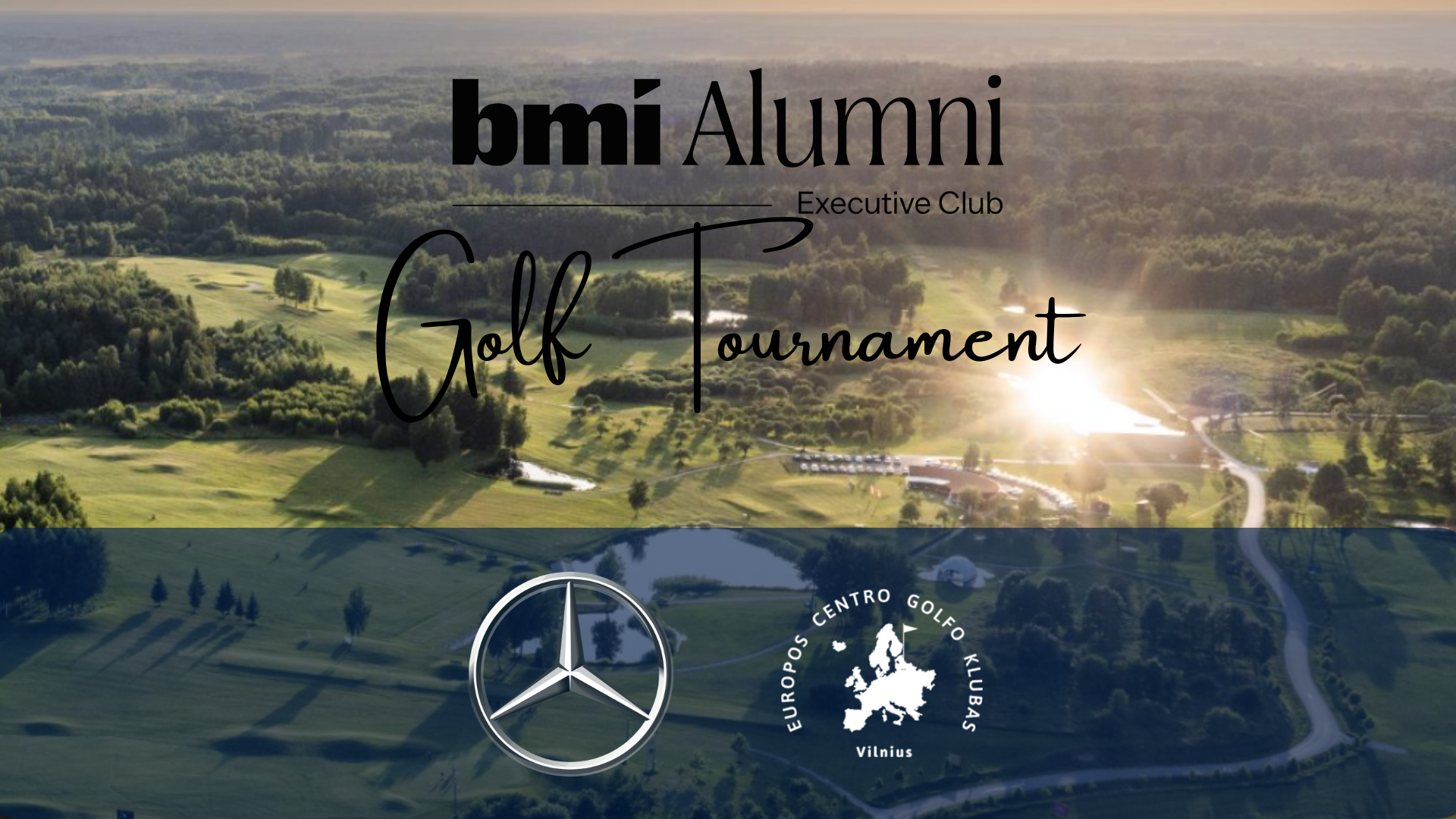 10 Sep
BMI Alumni Golf Tournament
The full-day event at Europos Centro Golfo Klubas, sponsored by Mercedes-Benz, is open to players, beginners, and all BMI Alumni and their family members who wish to take part in this adventure.
Experienced players with green cards will engage in a 9-hole game, while other participants will have the opportunity to learn and practice with a coach before taking part in a mini-golf competition.
If you don't have green card yet but want to get one, European Centre Golf Club offers special price with code BMI Alumni golf. For more information and registration you can contact: info@golfclub.lt or +370 616 26 366
More about green card lessons and prices: Žalios kortelės kursai - Europos Centro Golfo Klubas (golfclub.lt)
Last year's event was a great success, and this year promises even more fun activities, prizes, and surprises!
Programme of the day:

11:00-11:45: Welcome and Registration
11:45-12:30: Opening Speeches, Tournament Announcement, and Event Kick-off
12:30-15:00: 9-Hole Game for Players
12:30-14:00: Introduction and Lessons for First-Time Players and Beginners
14:00-15:00: Putting Contest and Practice
15:15-16:30: Lunch on the Terrace
16:30-17:00: Awards
17:00-18:00: Socializing Time

Throughout the day, our partners will provide various activities to ensure a delightful experience for everyone, whether you're a golf enthusiast or simply looking to socialize and enjoy the outdoors in good company. Our main sponsor, Mercedes-Benz, invites speed lovers for test drives. Vyno Klubas will introduce you to the world of sparkling wines, while Provanso Kvapai will immerse you in the magical world of scents. You are welcome to bring your children along, as they can also try golf and participate in a special contest.
 
Hurry up to register at Early Bird prices by 5 September!
Early bird (until 5 September):    
Adult - 60 Eur
Child - 20 Eur
Regular (until 7 September):
Adult - 80 Eur
Child - 20 Eur
Onsite (from 8 September):
Adult - 100 Eur
Child - 100 Eur
Europos Centro Golfo Klubas
,
Golfo g. 20, Girijos k., LT-15130 Vilniaus r. Molėtų pl. 26 km.
Registration form to event
Registration ended