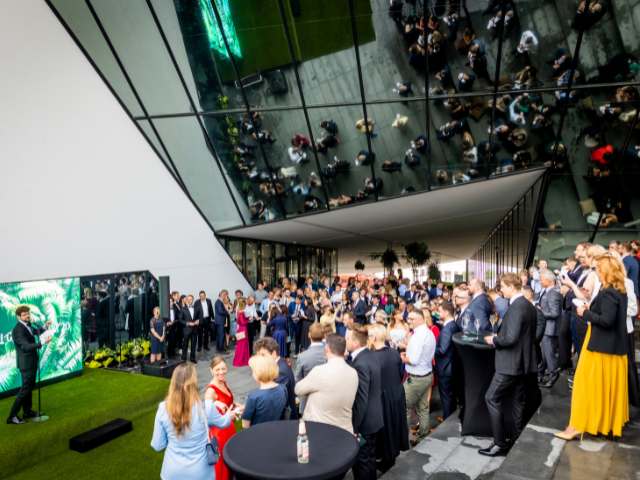 2022-06-16
BMI Alumni Gala stronger than the storm
What a night!  It all started with a storm but then the skies cleared and the magic began. The special XXth anniversary BMI Alumni Gala has attracted a record number of us - nearly 200 of BMI graduates, partners and special guests.
During this festive evening we looked back to appreciate the strength of our community, presented the future vision of the BMI Alumni association and simply celebrated who we are today.
The new name BMI Alumni Executive Club and a new visual identity of our organization has been revealed. And as noted by the president Rytis Valūnas, the title Executive Club very much reflects the power of our network and the richness of opportunities it presents. 
Having the power to make positive change brings with it an obligation to do so. During the event, our alumni used the opportunity to give back to society by donating over 2700 EUR. The funds will be used to help Ukrainian refugees through the the projects of Stiprūs kartu which has BMI alumni Darius Budzinauskas (Class XVI) and Arūnas Kemežys (Class XVI) among its founders.
The uncontested highlight of the event - presentation of The Annual BMI Alumni Awards, based on your votes in six categories this year:
CAREER PROGRESSION award to Sonata Gutauskaitė - Bubnelienė (Class X) for taking the position of CEO at SEB Lithuania.
BEST ENTREPRENEUR award to Ričardas Čepas (Class III) for opening a bar and nightclub '99 problems', inspired by the Burning Man movement.
ALUMNI PARTNERSHIP award to Jonas Iržikevičius (Class VI), Gintautas Lukošius (Class X), Marijus Kalesinskas (Class X) for co-founding pension fund startup Goindex and setting the stage to disrupt II and III pilar pension fund market.
DEDICATION TO COUNTRY award to Dainius Kreivys (Class VIII), Minister of Energy of the Republic of Lithuania, for driving the energy independence of our country.
BEST PUBLIC PRESENCE award to Žygimantas Mauricas (Class XVI), Chief Economist at Luminor Lietuva, for contributing to financial and economic literacy of our society.
IMPACT AWARD to Rasma Saulė (Class XV) for volunteering her 20+ years of logistics management experience to Red Cross, and contributing to the handling of the Belarusian Refugee Crisis, Ukrainian Refugee care and Humanitarian aid distribution.
A special FEMALE LEADER AWARD went to Jurgita Lemešiūtė (Class XV), Managing Partner at PeopleLink, decorated athlete and inspiring leader.
For their invaluable contribution to the development of BMI Alumni community over the years Vaiva Tylienė (Class VI) and Tadas Karkalas (Class X) were awarded the honorary member status.
We thank the sponsors who made this event possible: 

Special thanks goes to New Agency headed by Maksim Kuzmin (Class XXIII) for helping to create the new name and visual identity of BMI Alumni Executive Club.

See selected photos from the event below and the full photo gallery here.