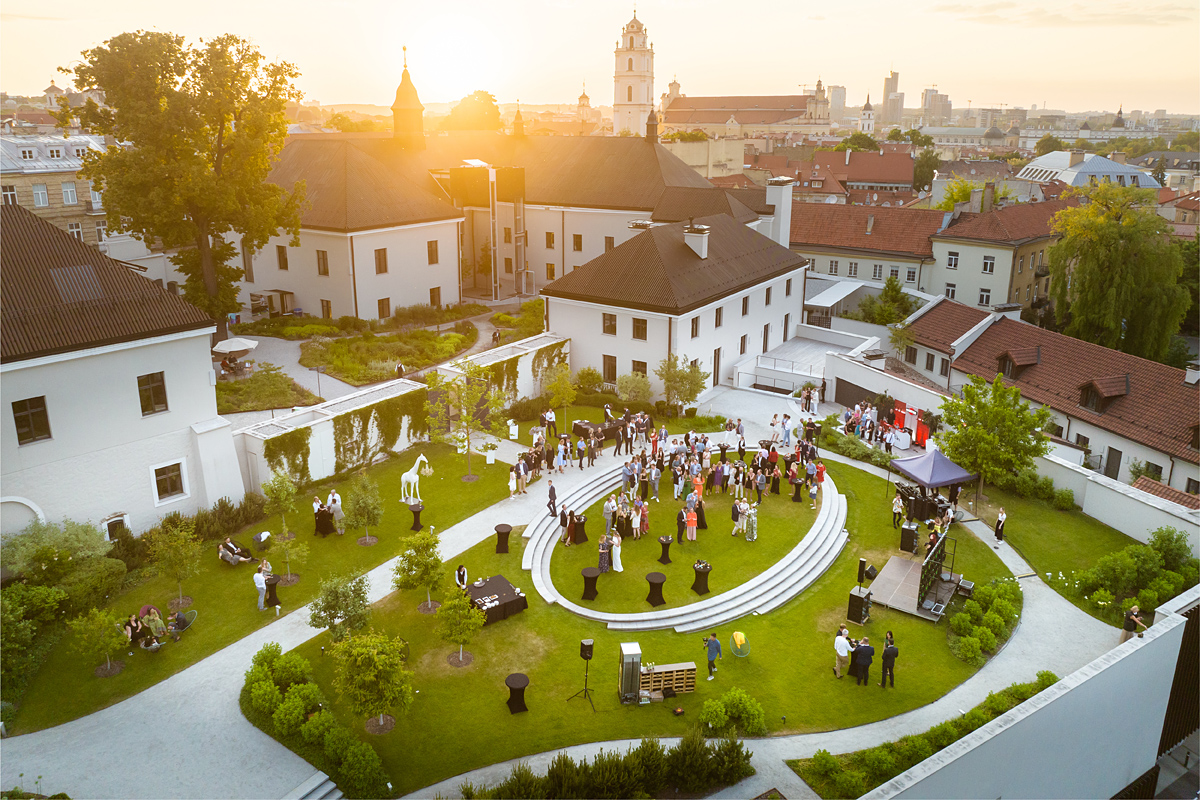 2023-06-12
BMI Alumni Gala 2023 in Italian Style
This year's traditional BMI Alumni Gala, infused with the captivating mood of Grande Bellezza movie and Italian style, was a remarkable blend of festivity, glamour, and sizzling energy.
The event kicked off with a grand entrance by the brilliant host, Toma Vaškevičiūtė, and her eccentric crew, accompanied by the resounding chorus of "Be Italian," setting the stage for an incredible night right from the start. The agenda was refreshingly simple: fewer speeches, more time for communication, strengthening bonds, and embracing the fantastic atmosphere of the unique setting and the delightfully warm summer evening - just like being in Italy!
The opening speech by Rytis Valūnas, the president of BMI Alumni Executive Club, was heartfelt and personal, reflecting on the deep meaning and values of our community and drawing parallels with a close-knit family. Karilė Klug, the EMBA program director at BMI, shared exciting and rewarding moments from the BMI mobility program and highlighted the opportunities that lie ahead, empowering alumni to stay sharp and nurture their strong connections.
This year marked a special moment as the swearing-in ceremony of new members of the BMI Alumni Executive Club took place for the first time. They took an oath not only to "honourably represent the name BMI alumni with their words and deeds" but also to "eat well, sleep well, and party well" to avoid becoming dull from too much work. This new tradition will undoubtedly continue, adding even more vibrancy to future events.
The unquestionable highlight of the evening was the presentation of The Annual BMI Alumni Awards, based on your votes in six categories this year. Let's celebrate the outstanding achievements of the following winners:
CAREER PROGRESSION award: Vitalija Kanevičienė (Class XIV), for her remarkable accomplishment in becoming the General Manager Baltics at JTI.
BEST ENTREPRENEUR award: Kęstutis Lipnickas (Class IV), for his co-founding of Divaks, an innovative food-grade insect protein production start-up, and successfully leading it to a scale-up phase.
DEDICATION TO COUNTRY award: Vaida Česnulevičiūtė - Markevičienė (Class XXI), for her significant contribution as Vice Minister of Finance of the Republic of Lithuania and her active promotion of the Fintech sector in Lithuania.
BEST PUBLIC SPEAKER award: Božena Petikonis Šabanienė (Class XXII), vice-chairman of the Board of American Chamber of Commerce in Lithuania and Head of HR at Ignitis Renewables. Her active engagement in sharing valuable insights and vision on the future of work and sustainable labor market topics through Baltic media, international conferences, and her personal LinkedIn account earned her this well-deserved recognition.
IMPACT AWARD: Vaiva Kubilaitė (Class XX), for co-founding the Tech Kinship project, a platform that facilitates discussions on important yet often neglected topics such as burnout, imposter syndrome, emotions at work, and many others.
FEMALE LEADER AWARD: Leda Iržikevičienė (Class VII), for her inspirational achievements over the past year alone. She became the CEO of OP Corporate Bank and an Independent Board member at Telia Lithuania and continues to contribute as a Board member of the association "Lyderė," driving the growth of our collective society through gender equality and inclusion.
We extend our sincere gratitude to our sponsors who made this event possible: Baltic Amadeus, BTA insurance company, Marsh Lietuva, Porsche, SME Finance, Volfas Engelman, and our individual patrons Audrius Milukas and Marius Svidinskas.