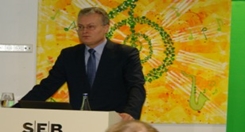 2016-08-01
THE BMI ALUMNI ASSOCIATION AND SEB BANK LITHUANIA INVITED TO DISCUSS THE INTRODUCTION OF THE EURO IN LITHUANIA
On January 28th (2014) BMI Alumni Association together with SEB Bank Lithuania held an event "Introduction of the euro in Lithuania: a tool, not a panacea" at the SEB's business support office in Vilnius. The main Presenter, Chief Economist at SEB Lithuania, Gintaras Nausėda, overviewed Lithuania's latest macroeconomic trends and forecasts for the euro introduction based on the experience of other Baltic countries. The event was attended by more than 30 BMI Alumni community members.
"Both the euro-enthusiasts and the euro-skeptics agree that the transition from a fixed currency system to the euro zone is not a revolution - a fixed currency means that the country is already practically in the euro zone. The groups don't agree on the details - the former state that it is necessary to introduce the euro while the latter prompt to stop this transition" - said G. Nausėda, inviting the participants to discuss other possibilities to develop the country's economy, not only the opportunity of local currency replacement. Interestingly, most of the participants were in favour of introducing the euro.
The presentation was followed by active discussions: how will the introduction of the euro influence businesses and households, how and when should the preparations be done, what are the main lessons of the euro introduction in Estonia and Latvia and how could we learn from it? Some of the participants shared their experience of how the transition to the euro in Estonia and Latvia influenced their businesses and also gave useful tips on how to live through and even prosper through the transition period.
In events like this we, as a bank, not only have the opportunity to share our insights, but also to hear the opinions, attitudes and plans of experienced business managers representing different industry sectors" - said SEB Bank Lithuania Board member and Director of Finance Jonas Iržikevičius who is also a BMI Alumni Association member.