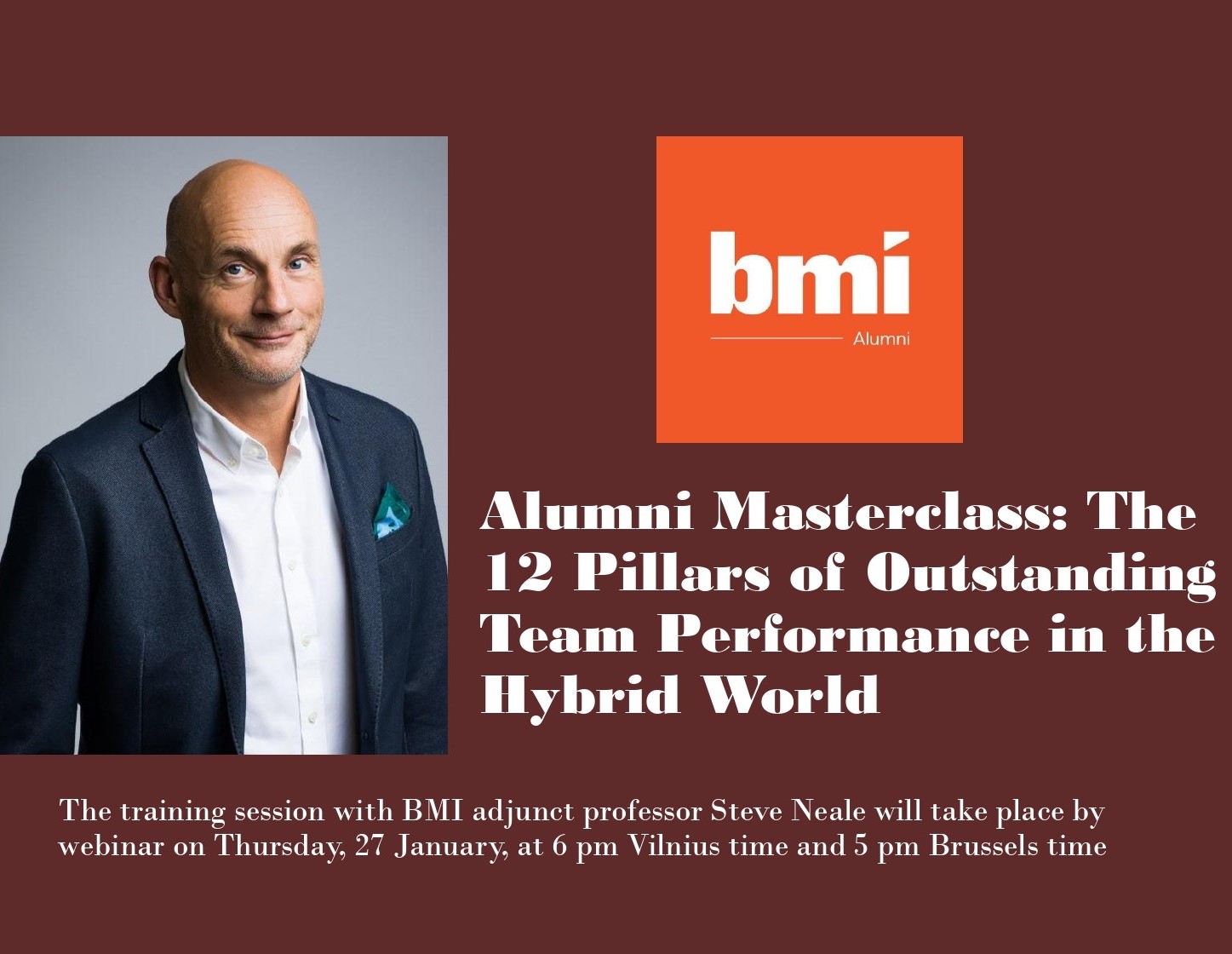 27 Jan
Alumni Masterclass: The 12 Pillars of Outstanding Team Performance in the Hybrid World
Dear members and associates of the BMI alumni family,
As we end this year of new growth and ambitions, the BMI Alumni Council wishes you and your loved ones a truly happy Christmas and a wonderful New Year!
To all of you we present an invitation to a free webinar masterclass with BMI adjunct professor Steve Neale on strengthening team foundations in an increasingly virtual and hybrid world.
This lively, practical and interactive master class will introduce you to the Limbic Performance System (LPS) Model of Team Effectiveness and how you can use it to:
Create team foundations based on the 12 Pillars of Outstanding Team Performance

Learn why Trust and Openness are essential on all teams

Get a roadmap for engaging teams through clarity of purpose and developing active values

Understand the biggest mistake teams make when it comes to goal setting and targets and how to make sure you set the right goals

Increase your team's engagement levels and retention rates through building an effective climate and feedback culture

Know why stress and energy management are essential areas for your team to master to maintain effective performance levels long term

Learn how to switch your team's communication into a coaching style, improving conflict handling and boosting collaboration levels

Hear about the big mistake that most team's make when it comes to change and understand how to apply a simple 3 step model for embracing and managing change
About your facilitator
Steve is a speaker, trainer, consultant and coach who has helped more than 40,000 business leaders over the last decade and more.
He is also is the founder and developer of the Accredited Masters in High Performance Leadership Programme and the Creator of the comprehensive and practical online leadership course, the Limbic Performance System (LPS) for Outstanding Leadership and Teams
The Masterclass is only offered to BMI Alumni network: Graduates and Students of BMI EMBA and LSM EMBA programmes.
The training session will take place by webinar on Thursday, 27 January, at 6 pm Vilnius time and 5 pm Brussels time. Register below.
Sincerely,
The Council of the BMI Alumni Association
Registration form to event
Registration ended